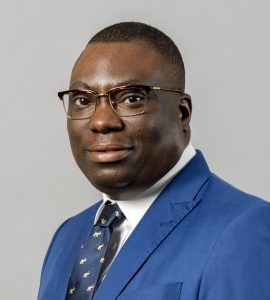 Executive Director, Head of Business Development

Tosin Adewuyi is FBN Bank UK's Executive Director and Head of Business Development, and is responsible for ensuring growth across the Bank's client base and business lines.
He is proficient in developing and implementing growth strategies across all lines of business, with expertise in Corporate and Investment Banking, Treasury and Investor Services and Trade Finance. Tosin is a proven leader of business development teams, with a deep knowledge of both the European and Sub-Saharan Africa financial landscape.
Tosin has over 20 years' experience as an international banker covering Sub-Saharan Africa, with over ten of those spent in senior management roles. He was a Managing Director and Senior Country Officer, Nigeria, at J.P. Morgan, where he held responsibility for all aspects of J.P. Morgan's business in Nigeria in addition to managing J.P.Morgan's cash management business in Sub- Saharan Africa.
Tosin led origination and sales efforts across a product set that included Treasury and Cash Management, Debt and Equity Capital Markets, Leveraged Finance, Advisory, Escrow, Trade and Commodity Financing. Prior to J.P.Morgan, Tosin spent time at Standard Bank covering Sub Saharan Africa corporates and KPMG as part of his accountancy training.
Tosin was a member of the J.P.Morgan EMEA Diversity Committee and one of the senior members of the Black Organisation for Leadership Development. Tosin was judged one of the top 100 influential black people in the UK, 2012 Power List in the Business, Finance and IT category.
Tosin is an alumni of University of Manchester, where he studied Economics and Accounting. He is a Fellow of the Association of Chartered Certified Accountants and an Honorary Senior Member of Chartered Institute of Bankers of Nigeria.