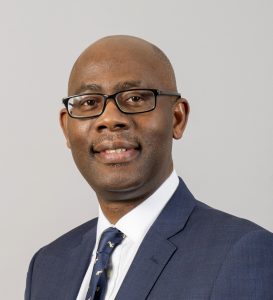 Chief Executive Officer and Executive Director

Sam Aiyere, the Bank's CEO is driving systemic organisational change across the bank.
His focus is to deliver the Bank's vision by creating a high sense of purpose and direction, effective execution and strong leadership.
He is passionate about building a Bank that serves customers excellently, provides an environment that enables staff to flourish, safely operates within the regulatory framework, contributes to society and ultimately delivers to shareholders.
Sam was previously the Chief Financial Officer at FBN Bank (UK) and has held the office of Chief Executive Officer since 1 June 2019. He joined the Bank in 2000 and has worked in numerous leading roles within Treasury, Finance, Project Management, Banking Operations, Strategy and Business Development.
He is an expert in strategic financial planning, capital and liquidity management, stress testing, regulatory reporting and managing market risk.
Prior to his various roles at FBN Bank (UK), Sam had worked with Grindlays Merchant Bank and FBN (Merchant Bankers) Limited, both in Nigeria.
Sam is a qualified accountant and holds a Bachelor of Science degree with honours in accounting and an MBA with specialisation in business finance.